The Glossary – "Go-to goodies for men women and children."  This feature will normally be published every other Friday but today we're giving you a special sneak peek of all the fun goodies available!!!!
Browbeaten
Aren't eyebrows the window of the soul? British supermodel Cara Delevingne's bushy eyebrows are certainly massive. But some very thin eyebrows look equally exaggerated [someone with thin brows). Brooke Shields-style hooded brows and Audrey Hepburn-style thick, feathered brows established a precedent for wild brows long ago. Some plastic surgeons are also offering brow transplants just in case you have plucked your brows to smithereens and the hair won't grow back. It's called an eyebrow transplant. New hair follicles are transferred to your face. Harper's Bazaar says people are doing it left and right.  Men's eyebrows look better when they have been relieved of all 15 foot eyebrows and otherwise look like they don't fiddle with them too much [like Jack Nicholson].
Here are some celebrities, past and present, who have great eyebrows: [ links to all] Nigella Lawson, Ava Gardner, Scarlett Johannson, George Clooney, Justin Bieber, John Malkovich, Oprah Winfrey
When you look a person straight in the eyebrows, do you form an opinion? Have you ever had your eyebrows "threaded"? Is this superior to plucking or waxing?  Do Cara Delevingne's eyebrows look good? Who has great eyebrows?
The Perfect Red
A glance at any magazine in the world will confirm that whatever your skin tone or hair color, a simplified face and a well-defined, full, red lip is just never going to go out of style. Everything else is just…not classic.
Rest assured, there is a red for you. If you like splashy orange undertones, a hint of pink or if you like to stick with the blue undertones, just make sure you have a slash of ever-present red in your arsenal. M.A.C. 's Russian Red $16 does not bleed but since it is high in mineral content, it does tend to cause blemishes around the lip line. Stockholm FACE Rouge $22 has a lighter consistency and a great range of color. Never failing is the old-faithful Revlon Certainly Red.  It isn't perfectly matte but who cares? It is only $8 at Celebrity Kroger and it does the job. Red always makes your teeth look brighter too.
Does your favorite red have orange or blue undertones? Favorite brand? Does anyone NOT wear red?
MAC Russian Red
Coffee Cup Contemplation
In an ideal world I would rise and roast my own coffee beans over an open fire, grind them myself and watch the sun rise in the Kalahari desert of the Western Cape in complete isolation…
Er. I mean I would pay someone to do this for me and deliver the cup to the tent.
Here are the coffee cups you want to be holding before someone fires up the Range Rover…
The ubiquitous New York City cup. $6.96
Were there ever any better mugs than Hull? So sweet and old-fashioned these mugs keeps your drink warm and feel so good clutched in your hands–a vintage favorite.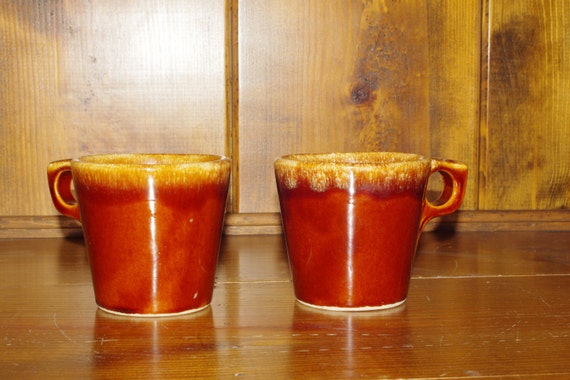 Thomas Goode & Co Ltd is probably a brand you haven't heard of because you are not yet engaged to Prince Harry. Surprisingly, it is not easily breakable. I found an unmatched set and it bounces off the floor just about. [picture]. I hope the Garage Sale Gods smile on you and you find it some. But for ritualistic coffee enjoyment, I would definitely order this bespoke. If I ever do, I will report back. There are few things more reassuring in life than reaching for your favorite coffee mug, or having a few special mugs to share on special occasions. We don't recommend throwing your cups to see if they bounce however.   
Who makes your favorite coffee cup? Where did you get it? Show us a picture of a cup you love.
Brushes with Glory
Do a vast array of makeup brushes really make a difference? Some certainly feel better, and synthetic brushes are easily mistaken for natural fibers these days. Some brushes are free with purchase of a Christmas Estee Lauder gift set like this one.  I have had this for three years and use it when I can find it. Some cost $3.95 at Rite Aid like the brush in this photo.
But some are made from sable and feature rare wood handles. This one is  $650 by the late Kevin Aucoin. Interestingly, Bergdorf Goodman does not tell you why you should buy this, so we are left to conclude it must make you feel tremendously good about yourself.  The promise is that the application is smoother, helping you to achieve a "complete face."  Here are the basic brushes you definitely need and the function is self explanatory.
– A small, angled brush for brows or liner
Target carries e.l.f. and features an 11 brush set for $30 that is perfectly respectable if you would like to think a little longer about running out to acquire a luxury brush collection.  (You can always toss them in an elegant high-necked glass bowl and they will look expensive in case you need that feeling…) Do you have a brush you use every day? What is the one brush you cannot live without? Do you wash your brushes as directed or just replace them?
* If you want to be a guest blogger, join the party. It helps if you have a voice and a point of view, but if you are unsure about it, go ahead and reach out because we won't let the jackals eat you. Send your submission with hyperlinks to TheGlossary@gmail.com